Today

is officially the first day of fall in Denmark and we will have to wave goodbye to all of our cute clothes and dress in those dark and dull colours again.
But! Although fall is coming for us, it's still hot enough somewhere else on this planet to wear light summer clothes (I'm looking at places like you, California).
So for this reason I decided to make a haul post over the clothes I bought online this summer.
This was a post I began working on long time ago so some pieces might not be available anymore. I will show you those in the end.
So the first thing I will show you is this dress from the seller
easytrade2099
.
It is a sleeveless mini dress that parts in the waist with an elastic, which is covered by the hem with a bow on. You will have to tie the bow yourself and you get a little necklace as a gift. This dress can be both casual or formal depending on your choice of accessories (the necklace really has a great effect here) and it's perfect for hot days since the fabric is so thin and breezy~
(Click
HERE
to view it on eBay)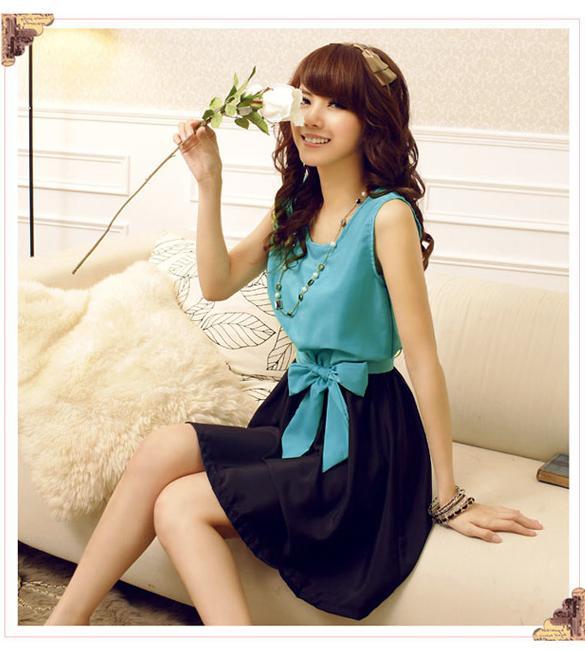 The next item is this waist skirt with suspenders
from
dioenv99
. I got mine in the bubblegum pink and I love it! There is a zipper in front and the little handle-thingie on it had a pearl, which makes it a cute detail. The skirt looks good whether you leave the suspenders up or hanging lose and makes for a great every day look. On the back is some sort of crippled piece of fabric that can be stretched so it will fit around your waist perfectly.
(You can find it
HERE
)
Since I needed new tops (I only had a black and a few whites) I got this cute halter neck one in pink from
2012zuoyk
. To be honest I haven't used it yet because my skin on the back wasn't looking too well until right before we left for Paris. But now my skin is fine again so I'll be looking forward to using it next summer! I was afraid to buy it in white because I thought it might be see through. You couldn't see anything through the (light) pink one I bought so I believe it'd be safe to get a white one too.
(Go
HERE
to find it)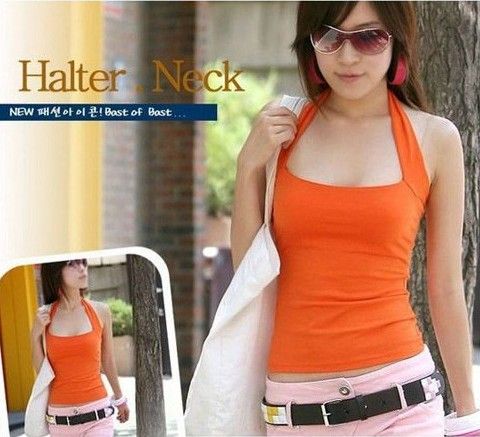 The following items I haven't been able to find but it will put up the names of the sellers and the tags I used to find them with. Some pieces you can still buy from other sellers but mind that I have no experience with others than the ones I have listed here.
I have a strong love princess'y and cute clothes so I was really happy when I found these polka-dotted shorts (They look like a skirt but are in fact shorts) on
easytrade2099
profile. These were also great for a stroll down the beach or the city because they are so breezy. Do mind that they're a little see through unless you wear light colours under.
They were called "Vintage Women High Waist Pleated Dot Polka/Floral Chiffon Short Mini Skirt Dress" and if you click
HERE
you will be directed to the page I found them on. Although the listing has ended, you might be able to find something similar.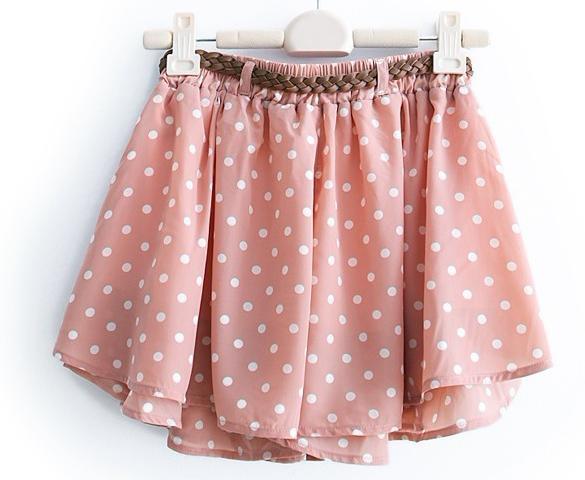 Now this is something I came to appreciate a LOT this summer! Is it a skirt? Are they shorts? NO! They are skorts: a skirt with shorts built-in! (Or shorts with a skirt over.. whichever you prefer) and I got them from
bigkeyboard
. These are quite "thick" so it surely won't freeze! I feel very comfortable in them knowing that I can move however I like without having to worry about anything.
I found them under the name "
Ladies Womens Chiffon Culotte Pleated Shorts Pants Short Mini Skirt Skort" and while the original listing has ended, I DID find them by another seller
HERE
(They are only available in yellow and black though).

The last things I want to show you before ending this haul are these white cat tights from
goodluckybead
. They're like normal nylons (but really good quality at that) and the tails and ears are sort of glued on (not glued but... kind of like the letters on t-shirts with print feels). They go all the way up and the part that is not white it a very light flesh colour.
These were called "Cute White Cat Tattoo Socks Sheer Pantyhose Mock Stockings Tights Leggings" and are no longer sold by goodluckybead. I DID, however, find them
HERE
but mind that I do not know this seller.
That's all for this haul~
I'm crossing my fingers that I'll be able to find some more cute clothes this fall!